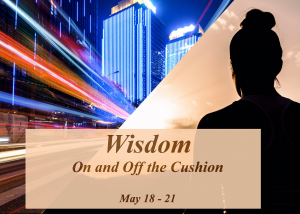 About the retreat
Our annual May Long Retreat will be held near Golden, B.C., at Quantum Leaps. This is a beautiful, serene environment, with a river, a large garden, and chickens running around.
All levels of meditators are welcome on this retreat. Instructions will be provided throughout the retreat. You will have opportunities to meet with the teachers to discuss any individual questions or concerns.
Delicious vegetarian meals will be served every day and are included in the price. You will be responsible for your own breakfasts (must be vegetarian). There are fridges, dishes, cutlery, pots, pans, stoves, and microwaves.
Theme
The theme for this retreat is "Wisdom On and Off the Cushion". Many of us have a difficult time bringing our meditation experience into our daily lives. When we meditate we are quiet, focused, calm, relaxed… how can you feel those things in the middle of rush hour, in a meeting, or trying to get your 3 year old dressed? During this retreat we will explore what it means to live wisely, and how we can wisely integrate the things we discover in meditation with our daily life.
As part of our contemplation of wisdom we will be learning about a boddhisattva named Manjusri. Manjusri (Ch. Wenshu, Jp. Monju) is a Great Bodhisattva who is also the ruler of the meditation hall and is associated with wisdom and insight. When depicted, he almost always has a sword "to cut off all delusions". He is associated with the lion because the Buddha's teachings are called "The Lion's Roar". We will be using images, chants, mantras, and stories related to Manjusri to help deepen our understanding of Buddhist wisdom.
Pricing
| Accommodation Type | Early Bird (by April 15) | Regular |
| --- | --- | --- |
| Teepee | $300 | $350 |
| Shared room | $425 | $475 |
| Private room | $500 | $550 |
Cost includes
– 3 nights' accommodations
– 3 dinners (Friday, Saturday, Sunday)
– 2 lunches (Saturday, Sunday)
Cost does NOT include
– 3 breakfasts (Saturday, Sunday, Monday)
– Lunch before arrival Friday
– Lunch after departure Monday
Registration
Please fill out the registration FORM.
Payment can be emailed to amalatr@gmail.com.
For other payment options please contact Steph directly through Meetup chat.
Your spot is not confirmed until we receive your registration form and your payment.
Refund policy
– Full refund if you cancel on or before April 15
– Cancellations after April 15 but before May 11 will be handled after the retreat. If we cannot fill your spot and the venue still bills us you will not get a refund. We are generally able
to provide partial to full refunds but this is not a guarantee.
– Cancellations on or after May 11 will be handled after the retreat in the same way as post-April-15 cancellations MINUS a $25 cancellation fee (if a partial refund is available).
Carpool
Carpool will be arranged for Friday morning between 9-10 am